BIG DREAM BOAT MAN was founded by Krish and Oli in late 2016. It was born out of a frustration of the 'day trip' culture, the lack of social and eco responsibility by other operators and the 'let's get as many tourists on a boat as we can' approach.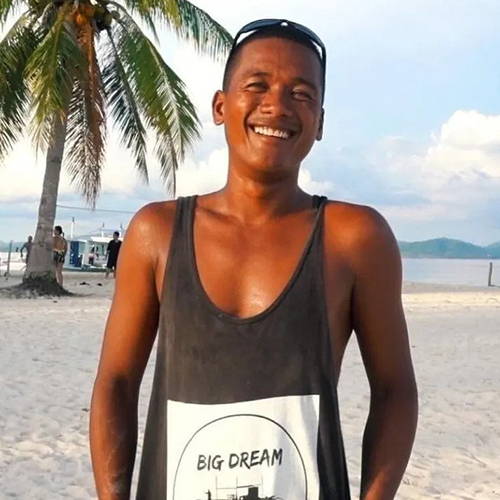 It all started back in 2017 when Oli, a british traveller, visited Palawan.

He asked his hotel for a private guide to take him to Kayangan Lake and twenty minutes later, Krish showed up.
Oli was allergic to large crowds and overcrowded boats that threw trash in the ocean and asked Krish if he knew anywhere beautiful but quiet...
Suddenly, Krish's face changed... as though he had been waiting for somebody to ask him that for years.
Immediately Krish started telling Oli about how Coron worked, how all the boats followed the same path, how none of them really cared, and how he had an idea to do it differently. He wanted to create an experience that would show guests the true beauty of his Island Life home; out of stuffy hotels, away from the crowds, during a true adventure. An adventure that would give enough time for everyone invovled to really share an experience, one that they would always remember.
His passion was infectious and within twenty minutes, Oli was sold.
Together, they decided to change it up, to create a responsible expeditions business with a clear vision and as such, BDBM was born... and we've never looked back!
Since that first meeting, Big Dream Boatman has evolved into something truly wonderful and beyond our wildest dreams.
People heard about what we were doing and wanted to get involved. We had the top chef's from restaurants across the island and the most experienced guides reach out to us, wanting to join us, and so we were able to get the most passionate staff you will probably ever encounter. Even though the destinations we visit are mindblowing, it is stil most common for people to say the highlight of their trip was the crew. And when you think about it this makes perfect sense. Having a genuine experience and developing a friendship with somebody from a different culture is what travelling is all about!
We've been equally blessed to have the most influential names in travel find us and want to join our trip. We have never paid for people to come on to our trip, for whatever reason, the trip just seems to attract the best people as both crew and guests.
We have been blessed and will continue to share the experience for as long as we can and to keep the Big Dream of that Boatman alive!!